Civil Engineering and Environmental team up to win the 2009 Sterling Award For Environmental Sustainability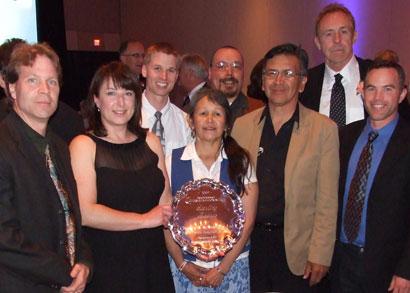 Thank you to the Nanaimo Chamber of Commerce for awarding Chatwin Engineering the Sterling Award.
Thanks also to Nanoose First Nations in choosing us for their Environmental and Engineering services for their Green Shore Project.
In the winter of 2008, Chatwin Engineering completed one of the first Green Shore projects in the province and the first in the Regional District of Nanaimo, on the Snaw'naw'as Reserve campground located immediately north of the Town of Lantzville.
Sea walls and rip rap cause a loss of beach habitat and create erosion problems on adjacent shoreline areas. There is a new approach for shoreline development and erosion control called Green Shores. Green Shores promotes a sustainable approach to coastal design and development and where appropriate, promotes soft shore stabilization techniques that maintain natural shoreline structure and function.
The Nanoose Green Shore Project included the reclamation of the shoreline to the 1878 survey boundary. Fronting the tide line, a low slope of beach gravels was installed to absorb storm waves. A coastal berm was constructed at an elevation for predicted sea level rise. The berm is a land sea transition zone stabilized with beach logs and planted with dune grass and other native shoreline plants. To protect the berm and re-create shoreline habitat, a 5m wide buffer was planted with native trees and shrubs. Controlled access paths to the beach were built and the restoration area was enclosed with a low wood fence to prevent trampling. An interpretive sign was installed near the central beach access to illustrate the project and promote stewardship of the beach. Construction was completed in the winter of 2008. The project will be monitored for success over the next five years and provide valuable information to other Green Shore practitioners.
https://www.chatwinengineering.com/wp-content/uploads/2016/11/news_swallows_cropped.jpg
293
410
webaadmin
https://www.chatwinengineering.com/wp-content/uploads/2017/02/chatwin-logo-lg.png
webaadmin
2016-11-24 22:28:21
2017-04-12 19:30:27
Civil Engineering and Environmental team up to win the 2009 Sterling Award For Environmental Sustainability